Brattleboro, Vermont Becomes Famous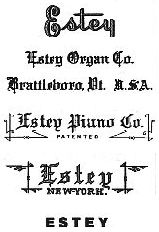 In 1834, Jacob Estey moved to Brattleboro, VT, looking for a trade that would meet the needs of a young New Englander. He soon opened a plumbing business which brought in enough money for Estey to invest in a downtown commercial venture, including real estate and capital investments in a new melodeon business thee in Brattleboro. A decade of profits went un in flames in 1857 when the building owned by Estey and home of the melodeon factory caught fire and burned to the ground.
Undeterred by his misfortune, Estey immediately set about rebuilding his self-made fortune. This time around, he decided to begin a different type of plumbing business all together, a pump organ business. Within a few years, Estey's parlor organ business was big, producing nearly two thousand organs a month. Estey Company soon became associated with the best pump organs in mass production. Individual workers took pride in high quality craftsmanship, some establishing names and reputations for themselves.
Riding on the profits and reputation of the Estey Organ Company, the Estey Piano Company was formed in 1885. The piano factory was built in New York City this time, with fine stores in Boston, New York, Chicago, Philadelphia and London. The respected name easily transferred from organs to pianos with both instruments fully represented in the trade.
Later, Julius Estey, Jacob's son, was instrumental in promoting the building of the large church organs across the country. The enterprise was successful enough for Estey to build a state of the art facility for producing such large scale instruments.
The Estey Piano Company was very successful throughout the first half of the 20th century. The pianos that were produced were of high quality and are often good candidates for repair, restoration and refinishing.