An Innovative, Enduring Piano Manufacturing Company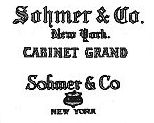 Sohmer & Company was founded by Hugo Sohmer (1846-1931), a German born musician and classicist who migrated to New York City in 1862. As a young man, Sohmer learned about piano manufacturing from working as an apprentice with Schütze & Ludolff, a piano company that would later be eclipsed by Sohmer and other innovative companies.
Nearly two decades after Steinway & Sons had been established, Hugo Sohmer began his own piano making business in 1872 at a time when New York City was becoming the world center for reputable piano manufacturing. Whether smart, lucky or both, Hugo Sohmer began his business with a distinct advantage, having purchased an already established local piano business named Marshall & Mittauer which had already been producing pianos in New York City since 1867.
Sohmer went on to make a respectable name for himself by having sought piano technology instruction from skilled craftsmen in both the United States and Europe. His goal was to produce high quality grand pianos with patented innovations that would stand up to the big name companies like Steinway & Sons and Chickering & Sons. Sohmer's patents did just that, helping the company compete with the best names in New York, Boston, Chicago and beyond. One such patent was for a very small grand piano -- a mere five feet in length -- that was very popular in homes and small apartments with limited space.
Since Hugo Sohmer was a musician himself, his love of music and dedication to the arts directed his efforts toward producing grand pianos that would satisfy the intentions of the performance artist. That is, in the tradition of piano makers like Steinway & Sons, Sohmer concentrated on quality over quantity. In this way, Sohmer's pianos were considered by many to be on the short list of the great pianos being made during this time period.
Like many family owned piano companies of his day, Hugo Sohmer handed his company down to his sons. The family owned company held its own through the depression of the 1930s and continued to make fine pianos as a family owned business into the 1980s. Although the Sohmer name was purchased by Samick Music Corp in 1982, the new company continues to make quality pianos that carry the Sohmer brand name.
Also see: