Local - Caring - Prompt - Family Run - Cost Effective
We Are Family Owned & Operated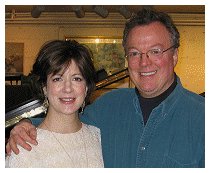 Michael Sweeney, his wife Lisa, and their talented staff have dedicated their professional lives to preserving these fine instruments. If you desire to buy, sell, or restore a vintage grand or baby grand piano, you will encounter the same pleasurable experience we achieve for all of our customers.
In business for over 40 years on the East Coast, Michael Sweeney Piano Craftsman now offers professional Refinishing & Repair Services, Nationwide!
Let's face it, in this economy budgets are tight!  We understand that and are doing something about it... 
We pick up pianos anywhere in the country and bring to our shop for extraordinary care. Locally, which includes PA,  NJ,  MD, and  DE, we take it one step further! Our tight budget piano service and our "Piano Shop on Wheels" comes to you... 
Browse our website and see how we do things differently!  Current prices are listed on-line. Scheduling is also available on-line at your convenient date. Michael Sweeney is always accessible by cell phone to assist with your order. And not just accessible - but prompt and responsive!
OUR MOST POPULAR SERVICES:
On-site Piano Evaluations and Appraisals  
Piano Tuning Moving and Cleaning                  
Action repair - touch and tone improvement
Chipped and Ugly Color Key Repair Packages 
Finish and Cabinet Damage Repair  
Our 25 Step Restoration Process
New Actions and Soundboards
Piano Refinishing
Piano Rebuilding
Move, Tune Up, Clean & Repair Packages  > A perfect solution if you just purchased a piano. Or, during a piano move to another location...  
Our "Shop on Wheels" is currently available: PA,  NJ,  MD and  DE!  Also available for New Piano Dealers, Used Piano Dealers, Moving Damage, Fellow Piano Technicians. Ideal Service for Craig's List and eBay "Buyers" and "Sellers" of Pianos. Music Institutions and Commercial Establishments.
Sincerely,
Michael Sweeney